He is a refreshing man who defies illness. It is there but the pain could be greater is the way he sees it.
He says that he is "middle of the road": "There are people who are much sicker than I am. There are people who are much faster than I am."
He admits that he gets "gloom on the odd occasion" as the second bout of chemo continues but "I know that the doctors that I've seen are doing their best".
He is phlegmatic: "There's nothing I can do".
Which isn't true. He could give up and stay at home, sink into a chair and decline. He chooses instead to keep training.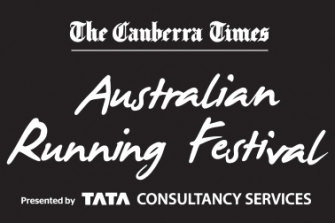 This act of will is a bug he caught when he worked in the customs department more than 30 years ago.
His colleagues went running at lunchtime and "one of them knew I was a bit heavy so he took me out on a five-kilometre jog and from then I got the bug".
It was addictive. He would make what he calls an annual pilgrimage to Sydney to do the 14km City to Surf run from the CBD to Bondi. The "Customs Joggers" were keen. He said he would run with them and then they would retire for refreshment to "get a lot of fluid replacement."
At the age of 43, he decided to give up his public service job because his wife, Patricia, was doing better in her career and so was a better bread-winner when somebody also needed to look after their young daughter. He became a house husband.
It took him off the road and it raised his weight by 30kg.
But he took on work for a not-for-profit childcare organisation and one of his colleagues there was told by her doctor to lose weight. He decided to help and the two hit the road running. He also had a big family wedding coming up so he wanted to lose the lard. "I had decided to get back to the weight I was when I got married – 11 stone and 7 pounds or 73 kilos."
The two colleagues shed the fat over a year – getting back to being "trim, tight and terrific", as he puts it of himself with a dry self-deprecating humour.
He did the 2011 Gold Coast Marathon in 4 hours and 5 minutes – a time that most people would be pretty pleased with but "those five minutes annoyed me no end".
He was determined to finish in under four hours. In 2015, The Canberra Times marathon was coming up and he was fit, or so he thought, but the early warning signs of deep-seated illness began to appear. He had chemotherapy in July, 2018. In September last year, he learnt the cancer had reached his liver.
Loading
"It was a bit of a rude shock but I try not to worry about things I can't control."
The treatment is keeping it at bay. Scans show a significant reduction in tumours. On Wednesday, he has his sixth dose of the current round of chemotherapy. He goes to Sydney for treatment and his wife, Patricia, helps. "She is a rock," he said.
And all the while, the training – about six kilometres for an hour a day.
He admits his schedule at 6.30am is later than it used to be. "I used to get up at 5.30 in the morning, even in minus seven degrees. It's just what I had been used to."
The joints still work, the muscles push, the tendons function. He thinks the withering of the body, which afflicts many life-long runners, hasn't happened to him because of the period of inactivity he had when he stopped being a public servant.
"I've been very blessed," he said. "At 75, I've had a very good life – but I wouldn't mind it being 85."
The Canberra Times Australian Running Festival, presented by Tata Consultancy Services, will be held on April 13-14. To register go to runningfestival.com.au.
Steve Evans is a reporter for The Canberra Times.
Source: https://www.canberratimes.com.au/national/act/not-so-much-a-run-more-a-shuffle-for-lawrence-20190324-p5171q.html