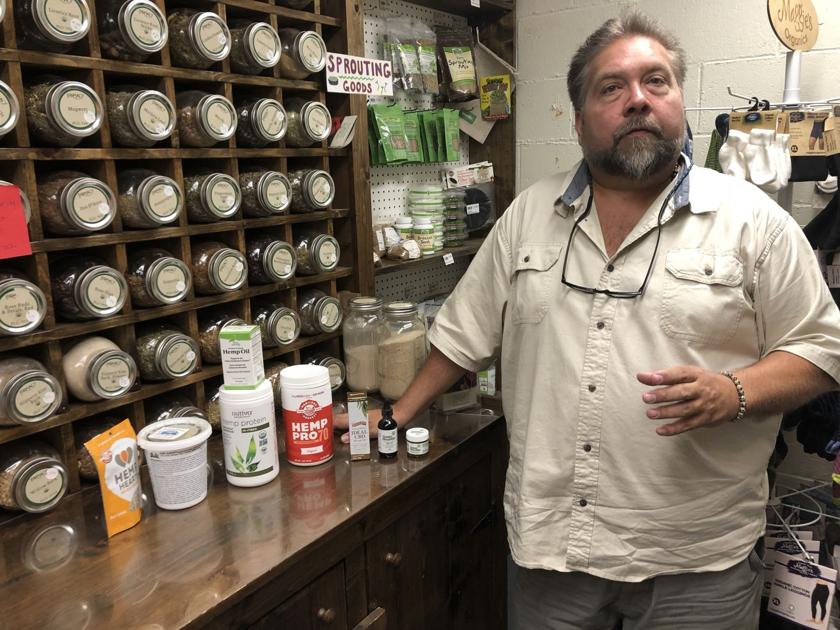 Even if the Ohio Board of Pharmacy in late August criminalized the sale of cannabidiol (CBD oil) from anywhere but state-sanctioned medical marijuana dispensaries, the owner of Athens' The Farmacy says he plans to continue selling CBD products anyway.
"Absolutely we are going to continue to sell," said Kevin Tidd, owner of the family-run and independent natural and specialty foods store that opened in 1971. He's been selling hemp and CBD products since 2014. "If they do try to make me stop selling, I would sue them." 
The state passed the Medical Marijuana Control Program in 2016, and it's been a bumpy road ever since. The state insisted the sale of medical marijuana would begin Sept. 8 but the program has been delayed, possibly until next year. 
In the meantime, Ohio has witnessed a buzz for CBD products as sales soar at private stores not licensed to sell medical-marijuana by the state. At The Farmacy, Kidd confirmed that CBD and other products derived from hemp (not to be confused with marijuana) are a "strong-selling product." CBD oil is only one of several products derived from the hemp plant that Kidd displayed Tuesday at his store on Stimson Avenue (see photo).
CBD products are also sold at the Import House in uptown Athens, while CBD products aimed at pets (made by Hemp Well) are sold at the Petland outlet on East State Street.
CBD is one of the many cannabinoids or compounds derived from the cannabis plant. When processed into an isolated form, it is non-psychoactive, unlike its mind-altering cannibinoid relative Delta-9-tetrahydrocannabinoil (THC).
While clinical research into CBD is ongoing and preliminary findings are positive, CBD is widely being used to treat a host of ailments, such as anxiety, pain, addiction and epileptic seizures in children.
The Facebook page for Hemp Well products for dogs, states, "The cannabinoids, Omega 3 and Omega 6 fatty acids found within Hemp Well have been shown to curb stiffness, maintain body function, support the immune system, assist with everyday activities, and may help relieve inflammation."
Nevertheless, the Board of Pharmacy, one of three state offices tasked with getting Ohio's medical marijuana law up and running, declared that "CBD is not lawful outside the confines of House Bill 523 (Ohio Medical Marijuana Control Program)." A later clarification used the term "all marijuana products, including CDB oil." This means these products can only be sold legally if they're cultivated, processed, dispensed and tested within the state of Ohio by state-licensed entities.
Tidd, however, disputed the state's suggestion that hemp-derived CDB oil is a marijuana product, noting that hemp and marijuana are not synonymous.
Realizing how lucrative CBD has become, Tidd theorized, the Ohio Board of Pharmacy is trying to strong-arm the CBD market away from private sellers. By some estimates, the national CBD market has doubled over the previous two years to $200 million. 
"I think it's absurd. It has nothing more to do then pharmaceutical control. It's a pharmaceutical coup. They want you to only go to them," said Tidd. "Pharmaceuticals have turned their back on hemp for decades, while some of us have had a love affair with hemp for decades. One of the first growers of hemp ever was George Washington. We used to print our money on hemp. It's a super food."
Tidd said it's heinous to pull CBD products away from people and children who have gotten positive results from CBD. He wonders whether elements of Big Pharma, especially in a state where several of the nation's largest opioid distributors are based, have behind-the-scenes influence over the Ohio Board of Pharmacy with help from the Ohio General Assembly.
"This is about money and greed. They want to control the sale of it and make mad money off it," Tidd said. "They're (Big Pharma) the ones that caused the opioid crisis in our society and made mad money off that. And now that people are up in arms and starting to reject their drugs, they want to go for what people are going for and that's CBD." 
The Board of Pharmacy told The Athens NEWS that any suggestion this is a state government power play to monopolize the CBD market is not true. This is simply a clarification, not a change of definition, they say.
"This is not a change of anything. This rule already existed (established by the Ohio Medical Marijuana Control Program). A statute passed by state lawmakers," said Ohio Board of Pharmacy spokesperson Grant Miller. 
One big question for private stores that will continue to sell CBD is: Will the state begin enforcing this clarification? That is yet to be determined, according to Miller.
"Right now we are doing this to get the word out about the law's definitions. If we see that this is the case in the future, and obviously the information is out there, and if CBD is still being sold, we will reassess at that time," he said.
While CBD sellers in Ohio suggest that the Board of Pharmacy is trying to muscle in on fast-growing market, a medical marijuana expert at Hocking College said that with all the buzz about CBD, some unscrupulous companies are trying to capitalize. 
"Some of these hemp-derived products are grown overseas. There's a lot of industrial hemp production in Europe and Asia, and safe access is better than no access," said Dr. Jonathan Cachat, director of Hocking College's new medical-marijuana testing lab.
Hocking College was awarded one of the first marijuana-testing licenses from the state this summer. Under the state's law, all medical marijuana must be grown in Ohio and also tested for quality and safety before being processed and sold. 
Cachat said they are wrapping up construction of the testing lab, a former manufacturing site in Nelsonville the college purchased for $300,000. Testing instruments have been ordered and are on there way. The college expects to spend $2 million from its budget reserve to complete the lab.  
"Personally, when I was in California and if my back was bothering me," Cachet said, "I always trusted the CBD products from a medical-marijuana dispensary a little bit more than I trusted the products from a headshop. At least I knew the products were tested and what the exact CBD content was." Cachet is an Ohio native whose start-up, Conscious Cannabis Ventures, was based near Sacramento.
Tidd of The Farmacy says no matter how much the state and its Board of Pharmacy want to argue that they are the gatekeepers and overlords of CBD, people shouldn't lose sight of the fact that it's derived from a plant and is essentially a food.
"You cannot patent a natural substance. You have to have a synthetic compound that only you make to put a patent on it," he said. "All pharmaceutical drugs are patented. Anything that grows naturally in the world that you and anybody can go get, they cannot patent that. They are really pushing to get control of the CBD isolate market so they can control the pricing and profit."
Source: https://www.athensnews.com/news/local/local-stores-sell-cbd-despite-state-order/article_fe0dca0a-bc2d-11e8-ba91-835b6730779a.html