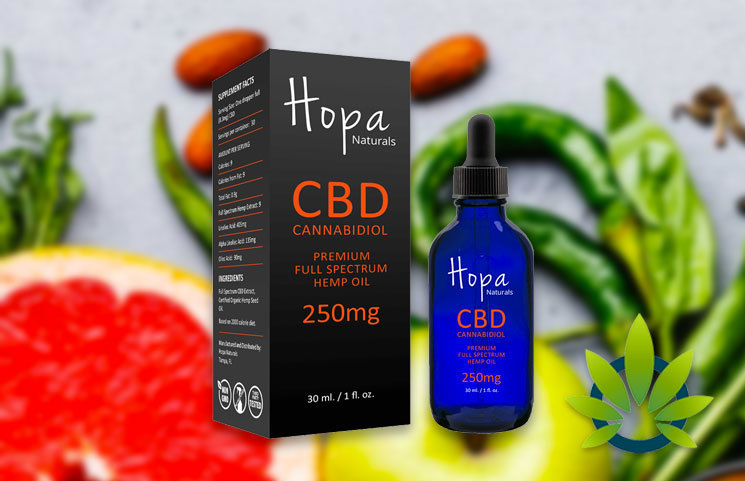 Hopa naturals believe that the secret of vibrant lives is good health. The company thus strives to make its health wellness products affordable and easily accessible to persons in need. Part of Hopa Natural's contribution to the industry is educating people about hemp through social media.
Hopa Naturals also has a line of high-quality CBD hemp oil meant to offer general CBD benefits like solving inflammation, chronic pain, anxiety, and sleeplessness, among others. These non-prescription oils are readily available for individual buyers and retail outlets all over the CBD legalized states.
This piece will review Hopa Naturals CBD product features including their CBD concentrations, source, quality, packaging, shipping, and price.
Hopa Naturals CBD Oil Overview
Hopa oils are packaged in 30ml tinctures, commonly known as dropper bottles. A dropper is included for easier administration, and this holds about 1ml per serving. The bottle is then placed in a custom box, which has clear information about the product.
The formulas for Hopa Naturals CBD oil have been designed for quality and performance. These oils are full spectrum CBD oils, and are sold in 3 different concentrations: 250mg, 500mg, and 1000mgs at $40, $75, and $130 respectively.
Being full spectrum, you can expect more benefits from Hopa oils than what's offered by isolate CBD oils. Hopa oils are full of cannabinoids, flavonoids, terpenes, essential proteins, fatty acids, and minerals. The company claims that their oils are the strongest allowed by law.
Hemp Source
Hopa Naturals supplies premium hemp products, and hence sources their plants from organic formulas. The company has partnered with experienced farmers to get consistent, quality strains.
Extraction
Hopa uses a critical C02 extraction process to get its full spectrum CBD oil. This is the safest and cleanest extraction process available. It leaves the hemp oil free of toxic solvents common in other extraction methods.
Testing
Hopa CBD oils are independently tested for potency, quality, solvents, pesticides, heavy metals and bacteria by Pro Verde labs, the biggest third-party testing facility globally.
Shipping
Hopa Naturals offers free shipping on their CBD oils. A padded envelope is used for packaging the delivery product discreetly. All the company's shipping is handled by USPS and takes 1 to 3 days for delivery anywhere around the United States.
Who should use Hopa Naturals Oils?
Persons looking to elevate their moods, solve stress and anxiety.
Persons looking to reduce the symptoms of depression
Anyone looking to solve sleep problems
Persons looking to solve mild or severe chronic pains and inflammation
Epilepsy, glaucoma, and Parkinson's disease patients
Persons in need of general CBD wellness benefits like solving acne, muscle spasms, loss of appetite, and managing body weight
Anyone looking to explore the many benefits of full spectrum CBD oil.
Will Hopa Naturals CBD oil make me high?
Although Hopa CBD oils are full spectrum, they meet federal requirements by having THC, the psychoactive substance in cannabis, at less than 0.03%. Thus, these oils are legal to carry and use, and taking them will not make you feel "high" or fail a drug test.
Pros of Hopa Naturals CBD Oils
High potency and great formulation
The hemp making Hopa CBD oils is cultivated under strict standards, and extracted through a CO2 supercritical extraction process to maintain quality and purity.
3 concentrations to choose from
Free shipping makes the deal more attractive.
Solves a range of medical conditions
A natural health remedy with no side effects
Cons
Limited flavor options
The oils are quite costly
Final Verdict
With the many benefits and positive user feedbacks, Hopa Naturals CBD oils are undeniably one of the best in the market. Although these oils are not the cheapest, they are potent. High quality standards have been maintained to give you value for your money.
We hence find Hopa Naturals CBD oils worth recommending to persons that would like to treat their pain, inflammation, sleep, appetite, and chronic disease symptoms.
Source: https://timesofcbd.com/hopa-naturals-cbd-oils/