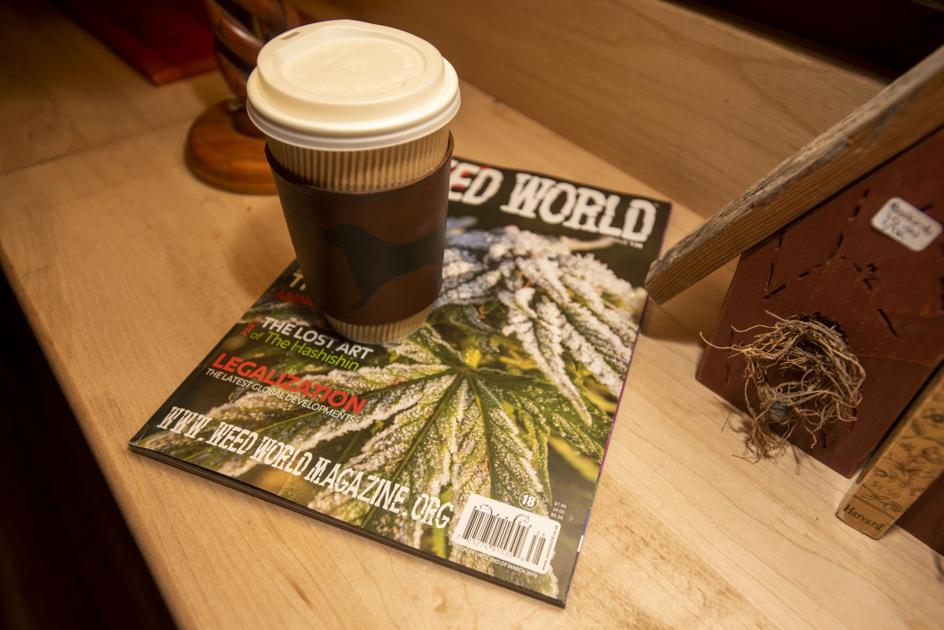 The Cass County Cannabis Coalition wants to dispel myths about cannabis and hemp and to talk to people about the uses of both crops.
The starting members had their first official meeting Saturday at Black Dog Coffee, an informal group that was also doing a meet-and-greet to talk with anyone interested.
The meeting was also to start dividing into committees for two purposes: educating people about the politics of cannabis and registering people to vote, said Chad Padgett.
Padgett informally led the group o nSaturday and is Regional Director for the Indiana chapter of NORML (National Organization for the Reform of Marijuana Laws).
Those who showed for the Coalition had different views on whether to push for cannabis as medicine in Indiana or legalize it for recreational use, too,
"I'm all for cannabis use, so it doesn't matter to me. However, our state takes baby steps, so it'll probably be medical first," Padgett said.
He's been advocating for about 12 years, including giving speeches at the Indiana statehouse several times and speaking at several universities.
Padgett promotes cannabis and its various products, such as high THC cannabis oil, because he credits it with not only saving his life but letting him function again.
In 2008, doctors had officially diagnosed him as fully disabled, and they gave him seven years to live.
He had his spleen removed in 1990 and gall bladder removed in 1992, then in 2007, he was diagnosed with acute pancreatitis Doctors told him that his chronic pancreatitis would lead to diabetes and pancreatic cancer, he said,
When the highly addictive oxycodone stopped helping with the pain, doctors increased Padgett's prescription to 90 milligrams a day and supplemented it with 90 milligrams of methadone daily.
He had a stent put in his pancreas and was told he'd need enzyme injections and a pump in his spine for the painkiller ç.
In 2013, he had a year left to live but didn't want to spend that in a hospital bed.
Trying a cannabis vegetable glycerin tincture dropped his Oxycodone use to 30 milligrams daily, and switching to the illegal high-THC full extract cannabis oil tincture eased his pancreatic problem, he said.
THC is the psychoactive chemical in cannabis, and it's found in trace amounts in industrial hemp crops.
The tincture also allowed him to get off the narcotics with little withdrawal symptoms, and he's been narcotics free since May 1, 2014, and declared no longer disabled in 2015..
Cannabis plants have cannabinoids, substances that occur in the body naturally and that the body needs, Padgett said.
When there's a deficiency, the body craves them.
According to the Cass County Cannabis Coalition's Facebook page, scientists discovered the human endocannabinoid system in 1990 and found cannabinoids throughout the nervous system, balancing the body's functions.
Others in the small Coalition group on Saturday had similar stories.
Brian Bennett said his son, from 18 months to 6 years old, had epileptic seizures that increased to 200 to 300 a day, requiring his son to wear a safety helmet and leading to the family going to every hospital neurological department within 400 miles for help.
In autumn 2014, after seeing a CNN documentary on the effects of CDB oil, the family bought tickets to Colorado to try it.
"It stopped the seizures that day." he said.
Bennett believes that he was instrumental in getting then-State Sen. Randy Head to change his mind on CBD oil for medicinal uses.
Bennett said he and his wife are also looking at getting into the production end of hemp.
That's part of the reason he showed Saturday.
"I was just curious to come out tonight to see the lay of the land in Cass County," he said. "Things like this have got to start somewhere."
Although the group's presence in Black Dog's first room was announced before the musicians started in the other room, there were very few who came to meet and greet in public.
"It's hard to get people out of the cannabis closet. A lot of people don't speak out," Padgett said.
Nate Hardin said that 78 percent of Hoosiers support medical marijuana and there's a "massive amount of closet cannabis users in this county."
The Coalition also had competition for meeting attendees on Saturday.
A number of people who'd said they were coming later told him that they were going to the state congressional debate on cannabis in Kokomo when that came up, Padgett said.
Hardin favors the growing of cannabis and hemp plants for uses other than medicinal and recreational.
He believes that as an agricultural community, Cass County needs to pursue legalization and set up small businesses for making paper, rope, clothes, toiletries and other products from the plants and their fibers.
States around Indiana now allow cannabis for medicinal purposes and for recreational use
Illinois and Michigan both allow recreational cannabis use after starting with medical use, while Ohio has decriminalized small amounts, which Padgett said isn't enough for anyone who needs it medicinally.
He wants to continue educating people here and doesn't plan to go to a state more receptive to cannabis use.
"I just feel all my work that I've done here would be for waste," Padgett said.
Those who want to contact Cass County Cannabis Coalition can reach them on their Facebook page, https://www.facebook.com/casscountycanna, or contact Padgett at capadg@yahoo.com
Source: https://www.pharostribune.com/news/local_news/article_a0c982d6-4b96-11ea-a890-c7124c25c26d.html